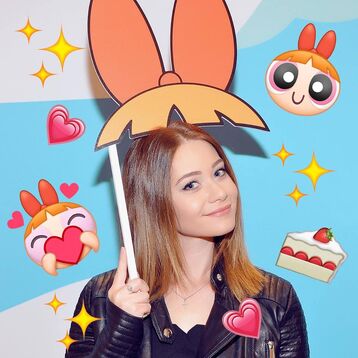 Amanda Leighton (born June 7, 1993) is an American actress. She is best known for portraying Emma on The Fosters and the new voice actress of Blossom from The Powerpuff Girls reboot replacing Catherine Cavadini.
Career
Leighton started her acting career at the age of 10 in her home town, and got her first agent at the age of 12 when started taking acting classes and going to auditions in Los Angeles, California. She also has 11 years of dance experience, which she used in ABC Family's Make It or Break It, where she played a gymnast named Wendy Capshaw.
Leighton's other appearances include roles on several television shows including Pretty Little Liars as Danielle, Grey's Anatomy as patient Sarah Cassidy with Treacher Collins syndrome, 90210 as Alex Scarborough, Criminal Minds as Trish Leake, and as a singing Cactus Kid in Six Feet Under. She also has appeared in commercials for Quicken Loans, Meow Mix, Comcast and Plavix. Leighton also had parts in two films: Detour as Lara (short film), and as Young Alex in Divorce Invitation (2012).
Filmography
Film
| Year | Title | Roles |
| --- | --- | --- |
| 2012 | Divorce Invitation | Young Alex |
| 2015 | The Better Half | Emily Ryan |
| 2016 | The Cheerleader Murders | Dee |
Television

| Year | Title | Role | Notes |
| --- | --- | --- | --- |
| 2005 | Six Feet Under | Singing Cactus Kid | Episode: "The Silence" |
| 2010 | Criminal Minds | Trish Leake | Episode: "Risky Business" |
| 2011 | Grey's Anatomy | Sarah Cassidy | Episode: "Start Me Up" |
| 2011 | House | Young Elena | Episode: "You Must Remember This" |
| 2011–2012 | 90210 | Alex Scarborough | 3 episodes |
| 2011 | Pretty Little Liars | Danielle | 2 episodes |
| 2012 | Make It or Break It | Wendy Capshaw | 7 episodes |
| 2013–2014 | The Young and the Restless | Raven | 6 episodes |
| 2013 | Kickin' It | Erica Straffman | Episode: "Jack Stands Alone" |
| 2013 | Austin & Ally | Bonnie | Episode: "Beach Bums & Bling" |
| 2013 | Filthy Sexy Teen$ | Whitney | Episode: "Pilot" |
| 2013 | Sketchy | White Girl | Episode: "Oh Lordy 'White Girls'" |
| 2014–present | The Fosters | Emma | Recurring role |
| 2014 | Bones | Shawna | Episode: "The Purging of the Pundit" |
| 2015–2017 | Gamer's Guide to Pretty Much Everything | Emma | 2 episodes |
| 2016 | Rosewood | Sophie Hornstock | 2 episodes |
| 2017 | This Is Us | 15 Year Old Sophie | Episode: "What Now?" |