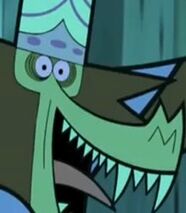 Baboon Kaboom is a villian in The Powerpuff Girls Movie. He is voiced by Jeff Bennett. He is one of the primates evolved by Mojo Jojo. His plans for world domination is by using his Baboon Bot to take over the planet. Baboon tries to kill the girls with his bot but they damage the machine and cause his Baboon Bot to have a blowout. This then results the bombs reversing and exploding inside the robot with him trapped inside.
Trivia
It is most likely that Baboon Kaboom is a baboon. 
Ad blocker interference detected!
Wikia is a free-to-use site that makes money from advertising. We have a modified experience for viewers using ad blockers

Wikia is not accessible if you've made further modifications. Remove the custom ad blocker rule(s) and the page will load as expected.