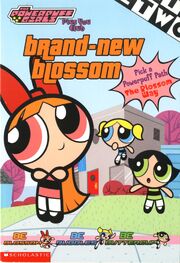 Brand New Blossom is a gamebook, the second in the Powerpuff Girls Plus You Club series.
Synopsis
What Would Blossom Do? Think like Blossom , the brainy learder of the superpowered crime-fighting team, The Powerpuff Girls. By picking what page to turn to, decide what Blossom will do & where she will go in your very own Powerpiff Girls adventure! Blossom's niceness & need to follow the rules have allowed evil monkey mastermind Mojo Jojo to rob Townsville's jewelry store & escape! It's time for a brand-new Blossom - a Blossom who isn't nice, a Blossom who breaks the rules! But will becoming a rebel put Blossom in more trouble than she can handle? See what happens - with your help!
Trivia
Although it's technically a book, this is one of few times in which Blossom turns against her sisters, only go back on their side eventually.