Career-Day Blossom is a gamebook; the fifth in the Pick a Powerpuff Path series.
Sypnosis
Think like Blossom, the leader of the superpowered crime-fighting team The Powerpuff Girls. By picking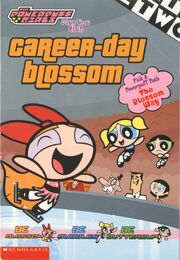 which page to turn to, decide what Blossom will do and where she will go in your very own Powerpuff Girls adventure!

It's Career Day at Pokey Oaks Kindergarten. Blossom has decided that when she grows up, being a superpowered crime fighter won't be her only job. So she may as well start her new career right now!

Will she choose the glamorous career of an ice-skater? If so, it'll take some fancy footwork to avoid the sneaky schemes of the other skaters, to say nothing of the dangerous ice-cleaning machine driven by supervillain Mojo Jojo! Or will Blossom choose the challenging job of mayor of Townsville? If so, she'll be faced with her first mayoral crisis—how to refill the vault when Townsville Bank runs out of money!

Can Blossom successfully juggle kindergarten, saving the day, and a challenging new career? It's your job to find out!