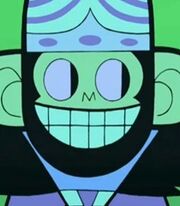 Cha-Ching Cha-Ching is a primate cymbol who works for Mojo Jojo. When Cha-Ching plans his own world domination, he uses crash cymbals to create powerful soundwaves to destroy the city. He is voiced by Tom Kenny.
Trivia
It is unknown what species of ape Cha-Ching Cha-Ching is.
He resembles the famous monkey with cymbals toy.
He has a slight Asian accent.
Ad blocker interference detected!
Wikia is a free-to-use site that makes money from advertising. We have a modified experience for viewers using ad blockers

Wikia is not accessible if you've made further modifications. Remove the custom ad blocker rule(s) and the page will load as expected.