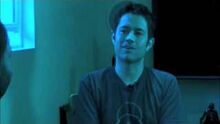 Chris Battle (or Christopher Battle) is one of the character designers of the original Powerpuff Girls series and Teen Titans Go!.
He is best known for character designing on TV shows such as Aaaah! Real Monsters, Dexter's Laboratory, The Mighty B!,The Grim Advetures of Billy and Mandy, Dan VS, and The Ultra Violets.
Born and raised in the sunny beachside town of Santa Monica, CA, a steady childhood diet of cartoons, comics, movies and video games led him towards the logical career choice: Drawing silly stuff for TV. Chris, his wife and their daughter make their home in Los Angeles and they like pancakes.
Ad blocker interference detected!
Wikia is a free-to-use site that makes money from advertising. We have a modified experience for viewers using ad blockers

Wikia is not accessible if you've made further modifications. Remove the custom ad blocker rule(s) and the page will load as expected.