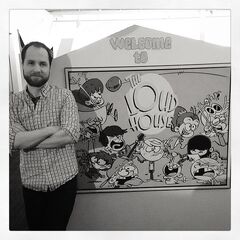 Christopher Mason "Chris" Savino
(born October 2, 1971 in Royal Oak, Michigan) is an American animator. He began his career in the animation industry on April 18, 1991 and has worked for Spümcø, Joe Murray Studio, Games Animation, Hanna-Barbera, Cartoon Network Studios, and Disney Television Animation and is currently planning a live-action short called
Bigfoot & Gray: On the Run
and an animated film called
Adventures in Milk
. He was also previously a writer for
My Little Pony: Friendship Is Magic
. In June 2014, his short for Nickelodeon's
The Loud House
was greenlit for a full series, and debuted on May 2, 2016.
When Craig McCracken left The Powerpuff Girls after the first 4 seasons to work on another Cartoon Network show, Foster's Home for Imaginary Friends, Chris Savino was left in charge of seasons 5 and 6 of The Powerpuff Girls.
Original Powerpuff Girls Episode Storyboarded and Directed
Season 1
Season 2
Ad blocker interference detected!
Wikia is a free-to-use site that makes money from advertising. We have a modified experience for viewers using ad blockers

Wikia is not accessible if you've made further modifications. Remove the custom ad blocker rule(s) and the page will load as expected.