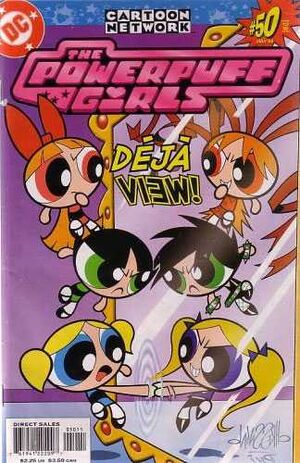 Deja View is the fiftieth published Powerpuff Girls comic book from DC Comics. It was published on July 1, 2004 and is licensed by Cartoon Network. 
Official Synopsis
In stores May 19. It's a 50th issue celebration not to be missed, as we experience the TV episode that never was! In a thrilling tale originally intended to be a Powerpuff Girls episode, the Girls are sucked through a dimensional portal into a world where they're the villains! It's a brave new world featuring The Powerpunk Girls, Opressor Plutonium, and the brave, heroic monkey hero Jomo Momo -- in "Deja View!"
Plot Summary
The Powerpuff Girls go to a parallel world which the villains and heroes are reverse. They must fight their negative opposites- the Powerpunk Girls.
Trivia
This was planned to be an episode of the TV series, but it never got made due to the amount of time spent on The Powerpuff Girls Movie.
The name is a pun on the words ' Dèjà vu'
Ad blocker interference detected!
Wikia is a free-to-use site that makes money from advertising. We have a modified experience for viewers using ad blockers

Wikia is not accessible if you've made further modifications. Remove the custom ad blocker rule(s) and the page will load as expected.