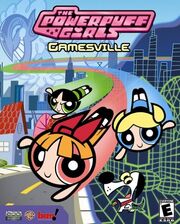 The Powerpuff Girls: Gamesville is a PC action game that was developed by Games, LTD Intelligent Games, LTD and was published by Entertainment BAM! Entertainment, and was released on October 31, 2002. In this game, HIM in an extereme state of boredom, has trapped the City of Townsville in a massive computer game. In this game, you play the three Powerpuff Girls - Blossom, Bubbles, and Buttercup in order to complete all eight arcade-style games in an explicit order with the use of a difficulty setting, and defeat all levels in an attempt to defeat HIM.
Gameplay
There are 30 coins in each level. Collecting them in each game will unlock unlimited plays for Arcade mode which also contain slightly different game play with a chance of expanding it with and Time Ring.
Characters
Trivia
Ad blocker interference detected!
Wikia is a free-to-use site that makes money from advertising. We have a modified experience for viewers using ad blockers

Wikia is not accessible if you've made further modifications. Remove the custom ad blocker rule(s) and the page will load as expected.