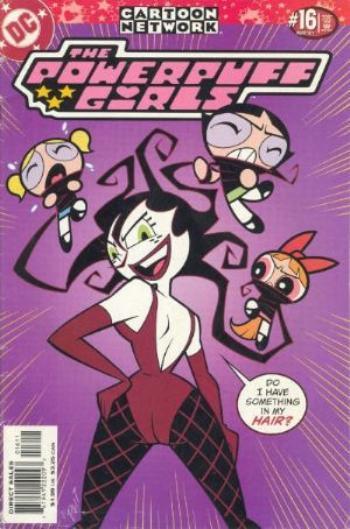 Hell Toupee; Five Green Vandals
is issue number 16 of the DC Comic series. It was published on August 1, 2001 and is licensed by
Cartoon Network
.
Synopsis
Sedusa's back, and she's got the Girls tied up in knots! Plus, the Girls rush to stop the Gangreen Gang from vandalizing Townsville to the ground with super destructive spray paint.
Trivia
This comic has a mild similarity to the episode Aspirations, because both the Gangreen Gang and Sedusa both star as the main villains.
Ad blocker interference detected!
Wikia is a free-to-use site that makes money from advertising. We have a modified experience for viewers using ad blockers

Wikia is not accessible if you've made further modifications. Remove the custom ad blocker rule(s) and the page will load as expected.