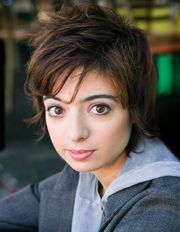 Kate Micucci (born March 31, 1980; 36 years old years old) is a North American actress and singer, best known for being one half of the comedy music duo Garfunkel and Oates. She voices the character Hope in 2016 series. She is also known for her roles as Irma in the 2012 series incarnation of Teenage Mutant Ninja Turtles, Velma Dinkley from Be Cool Scooby Doo, and many more.
Ad blocker interference detected!
Wikia is a free-to-use site that makes money from advertising. We have a modified experience for viewers using ad blockers

Wikia is not accessible if you've made further modifications. Remove the custom ad blocker rule(s) and the page will load as expected.