Major Competition

Season 1, Episode 7-A

Episode name pun on: 'Major' Man trying to be better than the girls, thus being a competition.
Airdate:
January 6, 1999
Credits
Director:
Genndy Tartakovsky and Craig McCracken
Story:
Cindy Morrow
See also
episode
transcript
image
gallery
Episodes
Previous
"Tough Love"
Next
"Mr. Mojo's Rising"
Episode Summary
A new hero, Major Man, arrives in Townsville and plans to steal all the girls' fame. It's up to the girls to prove to Townsville that Major Man is a phony, and that they really are the real superheroes Townsville needs.
Songs
Trivia/Goofs
This is the only episode where the narrator starts with him in panic that "The City of Townsville's on fire!"
Fred the Monster's character model is later recycled and used for the mother monster in "That's Not My Baby."
George Jetson from The Jetsons made a guest appearance as one of the citizens.
While Blossom holds a conversation with Buttercup about their observations on a TV clip featuring Major Man, as Buttercup replies "Yeah", Blossom's lips are moving.
Major Man's hairstyle is similar to Johnny Bravo's.
This was the first episode to air in 1999.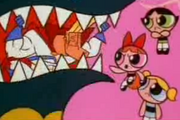 Ad blocker interference detected!
Wikia is a free-to-use site that makes money from advertising. We have a modified experience for viewers using ad blockers

Wikia is not accessible if you've made further modifications. Remove the custom ad blocker rule(s) and the page will load as expected.