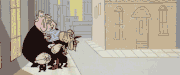 The
Ministry of Pain
are characters in
The Powerpuff Girls
. They reside at
Pokey Folks
, with several other old people.
They are first seen in "Fallen Arches" when Mastermind gets his old villain team back together. Blossom prevents Buttercup and Bubbles from fighting them since they have to respect their elders. Instead they call Captain Righteous and Lefty to fight them, but this results in both heroes and villains getting injured and being rushed to the hospital. The News report about the incident cause Buttercup and Bubbles to glare at their sister, thinking she was wrong to have encouraged them to get the former heroes instead of letting the Powerpuff Girls handle the  case their way. Ashamed, Blossom slides down, looking embarrassed.
Members
Mastermind: The leader of the group, he is an aged old man with a large, bald head. A scar running down one cheek, and he wears a monocle with a permanent, very sour expression. His room is red and black and he wears a black outfit with a skull on the front.
Counterpart: Large fat one. He was muscular during his youth and also wears a belt with a dropped skull attached.
Cohort: Short man. He wears the same belt as Counterpart.
Ad blocker interference detected!
Wikia is a free-to-use site that makes money from advertising. We have a modified experience for viewers using ad blockers

Wikia is not accessible if you've made further modifications. Remove the custom ad blocker rule(s) and the page will load as expected.