Episode Summary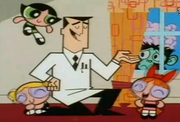 Mojo Jojo kidnaps the professor and tries to get him to hand over the girls' powers. Mojo realizes that it was he who pushed Professor Utonium, causing him to hit Chemical X. This means that Mojo was the one who created the Powerpuff Girls. It is also one of the few episodes where Mojo Jojo gets to defeat the Powerpuff Girls and actually wins. Despite this, the girls survive, leaving Mojo to realize he was behind the Chemical X accident.
Trivia
This is one of the few episodes where Mojo Jojo saves the day.
In this episode, Mojo finally wins a battle against the Powerpuff Girls.
While this episode explains how the girls were born, The Powerpuff Girls Movie explains it in even further detail.
In this episode, it's revealed that Mojo Jojo is the one partially repsonsible for the Professor's accidental creation the Powerpuff Girls, as Professor Utonium reveals in a flashback.
Running gag: Mojo Jojo confessing that he was the one who created the Powerpuff Girls, by saying it was me up until the end of the episode
This episode's name is a reference to the song L.A. Woman by the Doors where in the middle of the song, Morrison starts to sing "Mr. Mojo Risin'" (which is actually an anagram of Jim Morrison's name).
After gaining super powers, Mojo has Powerpuff eyes. But when the girls start to fight him, Mojo's eyes are back to normal
There was a Book version with the same plot, under a similar name: "Mojo Jojo's Rising".
At the end of this episode during the variant of the animated episodce outro, the Narrator recaps the events of this episode very quickly before he says "So, once again, the day is saved, thanks to the Powerpuff Girls. But, thanks ORIGINALLY to Mojo Jojo." Also, in the usual episode outro sequence, Mojo Jojo is seen replacing the girls in the episode outro for this episode, saying "It was me!" repeatedly.
Goofs
When the Powerpuff Girls were talking at the end of the episode, Mojo's mouth was moving but his voice was not heard.
Bubbles and Blossom's dress colors were switched when Mojo Jojo defeated them.
Ad blocker interference detected!
Wikia is a free-to-use site that makes money from advertising. We have a modified experience for viewers using ad blockers

Wikia is not accessible if you've made further modifications. Remove the custom ad blocker rule(s) and the page will load as expected.