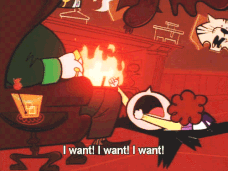 Mr. Morbucks is the father of Princess Morbucks and the husband of Mrs. Morbucks. His face is never seen throughout the entire series, and he never has any speaking roles.
Appearence:
He wears a robe when going to sleep, he is overweight, wears a wedding ring on his finger and is often seen smoking.
Episode Appearances
Trivia
His face has never been shown.
He can be heard him clearing his throat in Bought and Scold at the end but no lines.
In Powerpuff Girls Z, his face is shown, he's shown to have red hair, and he also had several speaking lines.
In the ending credits for the episode Bought and Scold, his name was previewed "Daddy Morbucks".
Ad blocker interference detected!
Wikia is a free-to-use site that makes money from advertising. We have a modified experience for viewers using ad blockers

Wikia is not accessible if you've made further modifications. Remove the custom ad blocker rule(s) and the page will load as expected.