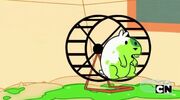 Pee Wee is a class hamster after Bubbles (in her 1998 counterpart's design) accidentally mutated him and destroyed Pokey Oaks Kindergarten.
Episode Appearances
Trivia
In the original series, the hamster was named Twiggy. It is possible they changed her name or Ms. Keane got a new hamster.
Ad blocker interference detected!
Wikia is a free-to-use site that makes money from advertising. We have a modified experience for viewers using ad blockers

Wikia is not accessible if you've made further modifications. Remove the custom ad blocker rule(s) and the page will load as expected.