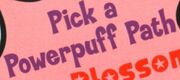 Powerpuff Girls Plus You (AKA Pick a Powerpuff Path)
is an interactive
gamebook
series, based on the cartoon franchise. Throughout each book, the reader has to decide the Girls' actions, when a story segment comes to a fork. One notable example is
Brand New Blossom.
This is similar to the
Give Yourself Goosebumps
and
Choose Your Own Adventure
books.
List of entries
Ad blocker interference detected!
Wikia is a free-to-use site that makes money from advertising. We have a modified experience for viewers using ad blockers

Wikia is not accessible if you've made further modifications. Remove the custom ad blocker rule(s) and the page will load as expected.