Supper Villain

Season 2, Episode 2-B

Episode name pun on: Super Villain
Airdate:
August 6, 1999
Credits
Director:
Genndy Tartakovsky and Craig McCracken
Story:
David Smith
Writer(s):
Michael Ryan and Amy Keating Rodgers
See also
episode
transcript
image
gallery
Episodes
Previous
"Collect Her"
Next
"Birthday Bash"
"Supper Villain" is a Season 2 episode of The Powerpuff Girls.
Synopsis
The
Powerpuff Girls
' next door neighbors all seem very nice until
Harold Smith
keeps on hearing reports about the Powerpuff Girls helping the held-hostage
Mayor
escape the clutches of
Mojo Jojo
. Then when the Powerpuff Girls go to Harold and
Maryanne
's house, Harold goes practically insane and says that when the meal is done, he'll melt the
Professor
's head off his shoulders. It all comes to a head when Marianne serves coconut cream pies for dessert and Blossom throws the first pie at Harold, leading to a pie fight. At this point, the police show up to take Harold away and Professor and the Girls leave in a haste. Marianne blames the girls for ruining her dinner - apparently,
evil runs in the family
.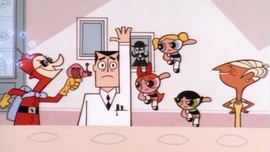 So, once again, the day is saved - and dinner ruined - thanks to the Powerpuff Girls.
The episode will continue in Just Desserts
Main article: Supper Villain/Transcript
Characters
Trivia
The voice cast for the Smiths is very similar to that for Dexter's family. Jeff Bennett voices both Harold and Dexter's Dad, Kath Soucie voices Marianne and Dexter's Mom, and finally, Christine Cavanaugh voices Bud and Dexter. However, Julie is voiced by Kath Soucie instead of Kathryn Cressida.
When Super Villain Harold Smith says "Oh, really?" The girl's eyes inside the irises are the other way around.
The scene where the Professor takes his time to eat a single pea to keep Harold at bay has since become a popular internet meme.
This episode reunites E.G. Daily, Christine Cavanaugh,Kath Soucie, and Tara Strong, all of whom voiced Tommy, Phil, Lil, Chuckie, and Dil in the Nickelodeon show Rugrats and their spin-off All Grown Up.
Ad blocker interference detected!
Wikia is a free-to-use site that makes money from advertising. We have a modified experience for viewers using ad blockers

Wikia is not accessible if you've made further modifications. Remove the custom ad blocker rule(s) and the page will load as expected.