The Mayor's Birthday Surprise is a gamebook; the third in the Powerpuff Girls Plus You Club series.
Sypnopsis
What Would the Mayor of Townsville Do? Think like the goofy, absenminded man who's Mayor of Townsville, the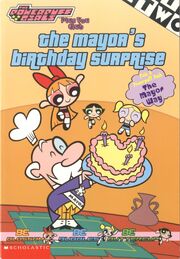 home of the superpowered crime-fighting team, The Powerpuff Girls. By picking what page to turn to, decide what Mayor will do & where he will go in your very own Powerpuff Girls adventure! The Mayor's planning a surprise for the Powerpuff Girls - he's going to bake them a birthday cake. But - oh, no! - he's out of sugar! The Mayor's attempts to get this needed ingredient might lead him to encounter evil monkey mastermind Mojo Jojo at the grocery store, or to snaky-haired villainess Sedusa. Can the Mayor takle his troubles without calling the Powerpuff Girls to save the day - & spoil the surprse? See what you can do to help!