The Powerpuff Girls: The Ultimate Guide to Your Inner Powerpuff and Quiz Book is a gamebook/quiz book of Powerpuff Girls Plus You Club series.
Synopsis
Here's your chance to discover the Powerpuff inside
you! 
You might not have super strength, the ability ot fly or shoot laser beams from your eyes- and you might never meet a monster or super villain. That's 'cause you don't have any
Chemical X
! But are you a born leader? A sweet person who everyone loves? A fighter? Or a mixture of all three? If any of these qualities ring a bell with you, then you have an Inner Powerpuff, and this book will help you discover your unique combo of sugar, spice, and everything nice!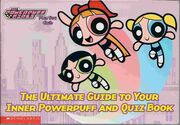 Ad blocker interference detected!
Wikia is a free-to-use site that makes money from advertising. We have a modified experience for viewers using ad blockers

Wikia is not accessible if you've made further modifications. Remove the custom ad blocker rule(s) and the page will load as expected.