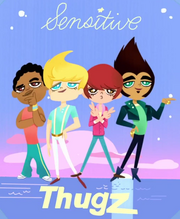 Sensitive Thugz
aka
The Sensitive Thugz
is a boy band that appeared in the
2016 series
 episode "
Escape from Monster Island
".
Members
Chance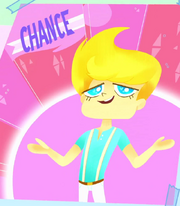 Chance has blonde hair and wears cyan clothes with white trousers. He also has bright cyan eyes with hearts inside. Bubbles is a real fan of him and in Escape from Monster Island he sang a song to Bubbles and he said: "This song goes out to our number one fan, Bubbles."
Dax
Dax has spiky black hair wears a black with green jacket and has black jeans. He has light green eyes with hearts inside. He also has a small soul patch beard. Buttercup is a fan of him. Buttercup thinks he is the baddest  boy in the world.
Manager Kevonne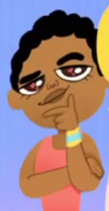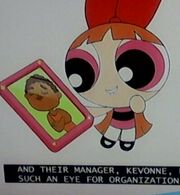 He has curly hair and wears a magenta shirt. He also wears a yellow with blue sport armband. Blossom is a fan of him because he also aims for organization just like her.
Unknown Name

He has a chestnut colored hair and wears a magenta jacket with blue pants. His name is not mentioned in the show yet and the girls didn't describe his personality.
Gallery
Songs
I'm a Crazy Monster Girl (When it Comes to Holding Your Hand)
I wanna listen to your problems girl
Trivia
They are a parody of most famous boy bands such as Forever in your Mind, Backstreet Boys, *NSYNC, and more recently, One Direction.
Dax looks similar to Butch (1998 TV series)