Tom Kenny (born July 13, 1962) is an American actor, voice actor and comedian who provides the voice of the Narrator and the Mayor, as well as other minor characters in the original The Powerpuff Girls. He reprised his roles in the 2016 reboot series The Powerpuff Girls.
In other works by Craig McCracken, Tom Kenny provided the voice of Eduardo in Foster's Home For Imaginary Friends and Commander Peepers in Wander Over Yonder.
He also provides the voice of the title (and main) character in Nickelodeon's popular animated show
SpongeBob SquarePants
.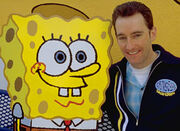 Sometimes
Tom Kenny
's character SpongeBob could be seen or heard in other shows he stars in.
Other known Voices
A.R.F : Puppy Dog Pals
Ad blocker interference detected!
Wikia is a free-to-use site that makes money from advertising. We have a modified experience for viewers using ad blockers

Wikia is not accessible if you've made further modifications. Remove the custom ad blocker rule(s) and the page will load as expected.