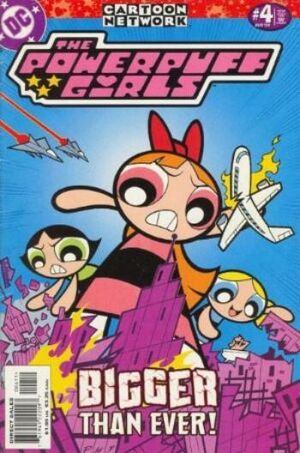 Bigger Than Ever!
is issue number 4 of the DC comic series. It was published on August 1, 2000 and is licensed by
Cartoon Network
.
Plot Summary
The Powerpuff Girls go wild for a videogame sent by an anonymous fan, but don't realize that their every push of the button is causing real-life, giant-sized havoc! Is it "Game Over" for Townsville?
Trivia
The cover almost illustrates the plot of the episode "What's the Big Idea?", except that the girls aren't intentionally destroying the town and it's Mojo Jojo who made them giants in that episode.
Ad blocker interference detected!
Wikia is a free-to-use site that makes money from advertising. We have a modified experience for viewers using ad blockers

Wikia is not accessible if you've made further modifications. Remove the custom ad blocker rule(s) and the page will load as expected.